Selected 1968 Trojan Advertising Copy
Just zero in on a Trojan -- any Trojan. There are more than 25 beauties in the 1968 Trojan line -- and one of them is just right for you. All Trojans feature the finest in marine styling and materials and their prices include many items of standard equipment that are optional extras on most other lines. After all -- a Trojan Boat isn't known as the "most boat for your boating dollar" for nothing.

Ask your favorite Trojan Dealer to demonstrate the '68 line as soon as possible send for free literature containing full details, today. 1968 Trojans are available in the following sizes: 24, 26, 28, 31, 33, 36, 38 and 42 feet.
1968 26' Sea Skiff Sedan
---
1968 Sea Voyager & Sport Cruiser
Members of the Family . . . the 1968 Trojan family, that is. These are just two examples from Trojan's 1968 line of Express Cruisers, Sedan Cruisers, Sport Fishermen and Motor Yachts. Over twenty-five models ranging in size from 24' to 42' offer a wide selection of deck plans which provide spacious living accommodations. Your choice of power options from 165 to 300 HP. No matter what you happen to be looking for in an inboard cruiser, Trojan's got it and at a price that insures that you get "more boat for your boating dollar."

Send for full details and get acquainted with the rest of the family. 1968 Trojans are available in the following sizes: 24, 26. 28. 31. 33, 36, 38 and 42 feet.


---
More Members of the 1968 Trojan Family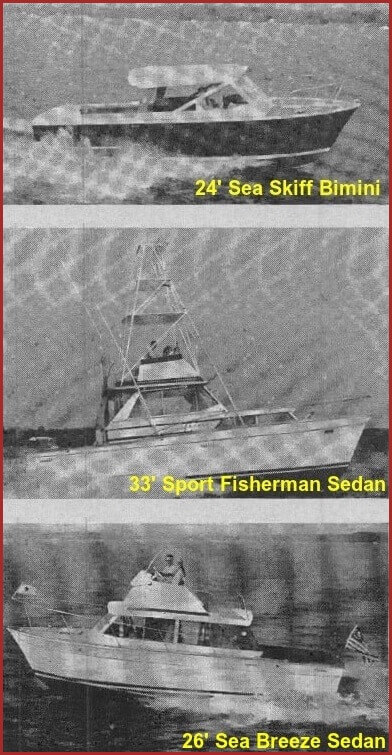 MORE Members of the family...
In the 1968 Family of the Fine Boats by Trojan


What a wonderful world of boats awaits you in the 1968 line! Over 30 models -- Lengths from 24' to 42' -- Sport Boats, Express Cruisers, Sedan Cruisers, Sport-Fishermen and Motor Yachts -- Lapstrake, Smooth Side or Solid Planked Construction -- Single or Twin Screw Inboard Power --Live aboard accommodations for from two to eight. Go shopping in the new, full color Trojan brochure for 1968. Write for your copy today.


---
1968 Sea Raider Express
This 25 ft. Sea Raider Express Cruiser is the first in a series of models in Trojan's all-new fiberglass Sea Raider line. She's built to the same high quality standards of workmanship and specifications that has become synonymous with Trojan Cruisers.

Her interior is tastefully decorated and intelligently planned sleeps 4 and offers private stand-up head and a galley that is complete in every respect.

The rakish style of her hull and superstructure is complimented by the design detail of exterior appointments and hardware. Easy to maintain, low in price, and with a most complete list of standard equipment, the 25 ft. Sea Raider invites comparison. Yes! The Sea Raider is here from the "people boat" builders at Trojan.

For complete information on the 25 ft. Sea Raider fiberglass Express Cruiser, see your Trojan dealer or write Trojan Boat Company, Dept. 109, Lancaster, Pa. 17604.


---
THE 25' SEA RAIDER . . . first of an all-new fiberglass line by Trojan

TROJAN BOAT CO. has launched its new Sea Raider line of fiberglass boats with this 25' l.o.a. Express Cruiser, which is designed to accommodate four persons on V-berths and a convertible dinette. Live-aboard comfort is enhanced by 9'4" beam, 8'8" cockpit length, 6'1" cabin headroom, a stand-up enclosed head, and a galley complete with icebox, sink and hide-away two-burner alcohol stove.

The boat has 1/2" plywood decks and cockpit sole covered with vinyl in simulated teak. Her cabin is tastefully decorated and includes curtains, carpeting, cushions and Formica-topped dinette table. Standard equipment includes electric trumpet horn, two dry chemical fire extinguishers, International Rule navigation lights, anchor light, stainless steel taff-rail, bilge blower, hand bilge pump, CC-approved ventilation system, 12-v. dry-charged battery, 20-gal. water tank and a 50-gal. fuel tank. Her instrument panel includes a tachometer, engine hour meter, ammeter, and temperature, oil pressure and fuel gauges.

The 25' Sea Raider has been designed for a single-engine installation and power options are provided. Equipped with a 200-hp. Chrysler V-8 fitted with a high-capacity alternator, she sells for $7,695, f.o.b. the factory. With a 190-hp Interceptor - the price is $7,725.

Further information may be obtained by writing Trojan Boat Co., Lancaster, Pa. 17604.