The used-boat buyer arrives at his preferred model by one of several methods. But once such decisions are made, they are usually immutable, as with most product loyalty. This seed may have been planted years back during a memorable afternoon on an uncle's boat. Or perhaps it was a good boat review that made such an impression that the buyer looks for just one particular brand in the boating classifieds.
Trojan certainly has its loyal following. The F32 series, in particular, was a record breaker. Over a period of nearly 20 years, some 2,700 rolled off a line at that Lancaster, P.A., plant - more than any other production boat in its size range. And the F32 has maintained that desirability.
"They were certainly popular because of their space and price," says broker Joan Kelly of McMichael Yacht Sales in Mamaroneck, N.Y.
"When one comes on the market now, if it's in good shape and has low hours, it'll pop right out the door. There aren't too many fly-bridges in a certain price range - such as the Trojan F32 or the Silverton 34. They had a nice traditional look, good space, and you can still buy them reasonably."
Dollars & Cents
When introduced in 1973, the F32 Sedan sold for $29,000. Five years later, the base price of the F32 was up to $40,600. Equipped with the standard 225 Chryslers, the F32 had a cruising speed between 15 and 22 mph (2500-3000rpm), with a top speed of 32.3 mph (4000 rpm).
Dealers recall being cautioned at sales meetings to keep fuel consumption data very close to their double-knit polyester vests. This was, after all, the era of the energy crisis. A page from the Trojan sales manual of 1973 shows the 225 Chryslers using 15.6 gph at 2500 rpm, 22.5 gph at 3,000 rpm and 40.5 gph, wide open. The optional 250 Chryslers drank 51 gph at top speed. Fuel capacity on the F32 was 120 gallons, with and additional 100 gallons of tankage optional ($855 by 1977). After 1983, standard tankage was increased to 220 gallons.
Today's buyer considering a used to Trojan may find a range of $44,800 to $51,500 for a 1988 F32 Sedan. A 1974 recently appeared on the Web for $29,500 - roughly its original price. In Massachusetts, a 1977 with 250s was offered at $39,500. One model found in Florida, built in 1990, was being sold for $78,900.
History 101
The F32 was among Trojan's first ventures into fiberglass construction. From 1949 to 1964, Trojan built exclusively in wood, developing a momentum and reputation for affordable craftsmanship. But with the 1960 introduction of fiberglass as a building material, Trojan would not be the first boat-builder to make the transition. Trojan president James R. McQueen wanted to see glass succeed in the market before committing to what would be a major capital transition costs for molds, methods and tooling, recalls Jim Ressler, Trojan's chief engineer from 1970 to 1977.
"Jim McLean was very much a wood advocate and reluctant to make the switch", says Ressler. "But he was cognizant that much of the industry was going to fiberglass, whether he liked it or not".
Trojan's low-end, perhaps experimental; 25-foot Sea Raider line featured "a fiberglass hull, with decks and cockpit of teak," according to a brochure. One foot in, one foot out. The boat was introduced in late 1964 for the 1965 model year. The F-series came out in 1970 - with the "F" denoting fiberglass. The F32s that you see today first appeared in the summer of 1972 with teak on the foredecks and cockpit - a short-lived design feature. The last F32 was built in 1992.
Of the three models offered, the F32 Sedan (model # 321) was overwhelmingly more popular in the F32 Express (model #320). Only about 20 percent were ordered with the long cockpit and diminished house area of the Express. And only two-or three dozen of the F32 Sports fishermen (model #322) were sold, according to Ressler.
Right Time, Right Place
The birthplace of the Trojan F32s was just east of Lancaster, P.A., about 70 miles west of Philadelphia. Built in the 1960s on about 55 acres, the Trojan plant had almost 300 employees working two shifts on three assembly lines - at one point all of them building F32s, recalls Ressler, who still lives near Lancaster.
At its peak, production volume was between 8 and 10 boats a week, he says - more than 400 a year. Although today's literature says 2,700 were built Ressler estimates the total number of F32s at closer to 3,000. The ride eventually ended with the late 80s implosion of the boat building industry: bankruptcy and asset buyout. The molds for the F32's were cut into pieces with a chainsaw, but not the F32 legacy. "Jay" Crumlish of Chester, Md., sold Trojan's for almost 18 years. His father, the late John Joseph "J. J." Crumlish Jr., was Trojan's regional sales manager for the mid-Atlantic and influenced his son in the direction of yacht sales. Crumlish, too, remembers the Lancaster plant. At its peak, "they were flying off a line he says. But the fit and cabinetry weren't rushed."
Why was the F32 such popular boat? "This was wider than most boats," says Crumlish." It had a good reputation and was economical to run. That was certainly the heyday of boat production, though. "They hit the market at the right time."
The F32 layout remained largely unchanged throughout its long production run. Sedan models have a 60 - square-foot cockpit, and enclosed "family space" of about 73 sq. ft. that includes the standard lower helm to starboard, and is simply appointed yet bright and spacious interior.
Forward, a wide V- berth is flanked port and starboard by ample shelving with hanging lockers providing the privacy bulkhead. On port, the head is forward of the galley, which abuts the aft bulkhead. This U-shaped area has a corner-mount sink, with a two-burner gas/electric stove facing aft or outboard. On the starboard, a large dinette converts to double berth.
The Express version answered a different equation: With no" family room," there is more space available for the cockpit and interior. A full-length settee on the port faces the starboard dinette, set forward of a large head.
Slippery when wet
With the perspective of time, owners, surveyors and former dealers give the Trojan F32 generally good marks, in both design and execution. But with near unanimity, they caution prospective buyers about one certain aspect - soft deck cores.
Remember, the decks of the F32 were originally of teak. In the late '70s foredeck was changed over to fiberglass, and within several model years, the wooden cockpit decks were phased out, as well.
But coring the decks for stiffness was far from a precise science at the time. The likelihood is that if that deck is going to get soft, it will have done so, by this point. But experts stressed that buyers should be aware of this softening tendency and look for possible repair jobs. On any used boat, beware of "quick and dirty" methods that can be expensive in the long run.
"Think of a boat as a shoebox", explains retired surveyor Terry Fitzsimmons, of Annapolis, Md. "Without the lid, you can flex the sides; but with the lid on, you can't. The deck is a big part of the structural integrity of the vessel. And when those decks start go, than the rest of the boat begins to move." The hull begins to flex. Bulkheads, joinery - indeed safety and value - all pay the price.
Ask an owner
To some the Trojan owners, when they find one they like, they stick with it. Phil Vecchio of Providence,R.I., has owned his 1978 F32 Sedan for 13 years. He's looking for a 40-foot double cabin, but only because he wants to move aboard and needs the room. The design elements that made his boat attractive have yielded hundreds of hours of fishing and cruising pleasure.
"I've always liked the F32's lines," says Veccchio. "This is still a good looking boat." Noting the 13-foot beam, he adds "For a 32 footer there's a lot of room inside; it's very seaworthy and handles well."
Vecchio has used this boat often, entertaining his wife, now grown children and sometimes his mother. He's fished for shark and tuna, trolled for blues and taking it as far as 25 miles offshore. If Vecchio has any complaints, their minor; he wishes for an enclosed shower separate from the head area." And the fridge is a little small." The boat has AC/DC refrigeration, which came standard on newer boats.
His F32 Sedan has its original 360-cubic-inch Chryslers - the 250-hp option that cost just $710 more than the standard 225-hp units when the 1978 model was new. While it's not uncommon to find a 20-year-old boat that's been re-powered, Vecchio has maintained his carefully in hasn't seen the need. He replaced the manifolds, risers and extensions several years back, and stays on top of routine care.
When he bought the F32 it had 385 hours on it. The meters now read 1650 hours. "A lot of those hours have been at low rpm - trolling or just cruising," he said.
"We go to the Norwalk (Conn.) Boat Show every year," says Phil Vecciho." I tell my wife that for the boat we have here, it'd cost $160,000 to replace it." Every man should feel that way about his boat.
Specifications
==> LOA: 32 feet
==> Beam: 13 feet
==> Draft: 30 inches
==> Freeboard:
=> 60 inches (FORWARD)
=> 39 inches (AFT)
==> Displacement (DRY): 12,000 pounds
==> Clearance from Waterline:
=> Hardtop: 8 feet
=> Bridge: 11 Feet, 3 inches
==> Fuel:
=> 120 gallons (thru 1983)
=> 220 gallons (1984 and later)
==> Water: 40 gallons
---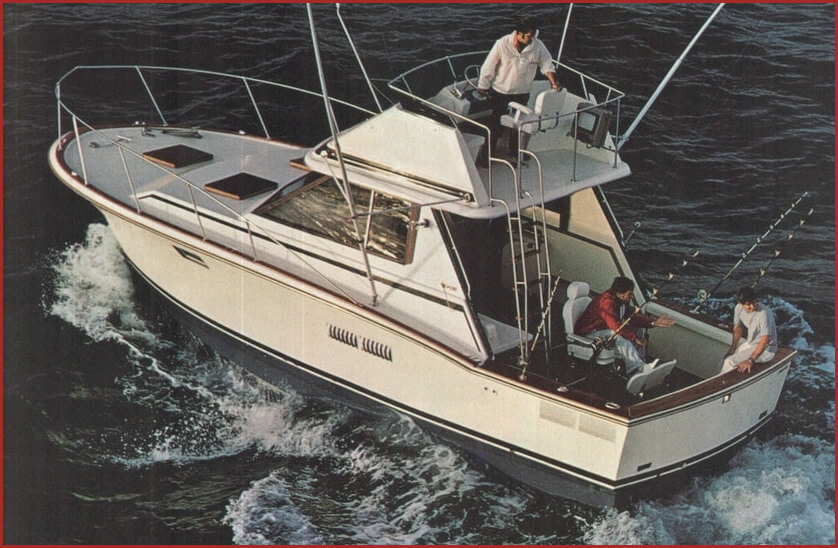 ---
Reprinted with permission from Soundings Publications LLC