Access to the hanging locker is from the companionway, and the locker is finished inside with varnished mahogany plywood. On the test boat this surface was just rough enough to snag a shirt, but when we reported this to the plant they indicated that the fault had been corrected on subsequent boats.
The galley is compact, but well designed, built over a neat two-door plastic ice chest. The 21" x 36" white Formica counter contains a small porcelain enamel sink with fitted wood cover and freshwater tap. Pressure is supplied by a PAR water pressure system. A two-burner alcohol stove secures into a rail at the forward end of the counter when it is needed; at other times it stows on a track in the locker above. By judicious use of space under the side decks, Trojan has provided this galley with an amazing amount of stowage space for provisions and dishes - the latter in wood racks.
Sensibly placed right abaft the galley, the dinette makes up into the usual double berth. Two drawers under the dinette are handy for bedding or clothing, and a locker door under the aft seat gives access to an emergency hand bilge pump—a safety feature so rare in new boats that Trojan's standard-equipment hand pump is the first we've encountered in the past four years of boat testing.
Sea Raider's 12 v lighting system includes fixtures over the settee, dinette, galley, forward bunk, and in the wheelhouse. The test boat also had a 110 v shore power system, with outlets in dinette, galley, and head—a $175 extra with connector and 50' dock line.
The perforated white vinyl overhead in the cabin and wheelhouse is both attractive and practical, and the soft blue carpet in the accommodation is a joy to bare feet. Sliding side windows give good ventilation and in the test boat side windows give good ventilation and in the test boat were fitted with screens, a $60 extra. Forward windows are fixed, and all - including the wheelhouse windshield - are 3/16" crystal double strength. We'd much prefer safety glass, particularly in forward-facing windows. Privacy below is enhanced by handsome blue and white curtains, sliding on aluminum track, all standard equipment.
After a break for lunch we turned on the blower in preparation for the afternoon's run. "Trojan includes the blower as standard equipment, and has sensibly installed it on a separate exhaust duct so it won't interfere with natural ventilation. Too many stock boats, if they have a blower at all, have them installed in the natural exhaust duct where, when they are not running, they obstruct the flow of air.
Leaving the slip and maneuvering around the marina, we noted that the Marmac double-lever controls are precise, and confidence-building. Sea Raider handles extremely well in docking situations, as any good 30-footer with opposite-rotating 225 hp engines should. Under way in the canal and in Port Everglades Harbor she developed her maximum running angle (5.5deg) at 2000 rpm, and at this angle the helmsman's vision is somewhat obstructed by a metal divider strip at the bottom of the windshield. Her mechanical steering system is excellent—no discernible torque in the wheel at any rpm. And this traditional spoked mahogany wheel is psychologically just right for this beteaked little yacht it feels good and it looks good.
Accompanied by Al Behrendt in his big sport-fisherman, we headed out for the moderate seas in the Gulf Stream. The Sea Raider is very comfortable in a light chop or even three to four foot seas, but she's wet. Time and again we plowed at full throttle into the ninth wave, or the camera boat's wake, and were rewarded with a shower of spray that covered the windshield and effectively blocked our vision until we turned the wiper on. The wiper, incidentally, is a $50 extra—and any owner who doesn't order one with the boat will soon find himself installing one!
Apart from this damp behavior the only other fault we could find in her handling was a perplexing, if slight, list to starboard in the upper rpm ranges. In a single-screw boat you expect some torque effect, but not in an opposite-rotating twin-screw boat. When we asked Trojan's people about this later, their best guess was that rudder angles were not properly adjusted. If we were buying this boat, we'd ask the dealer to adjust that slight list out of her.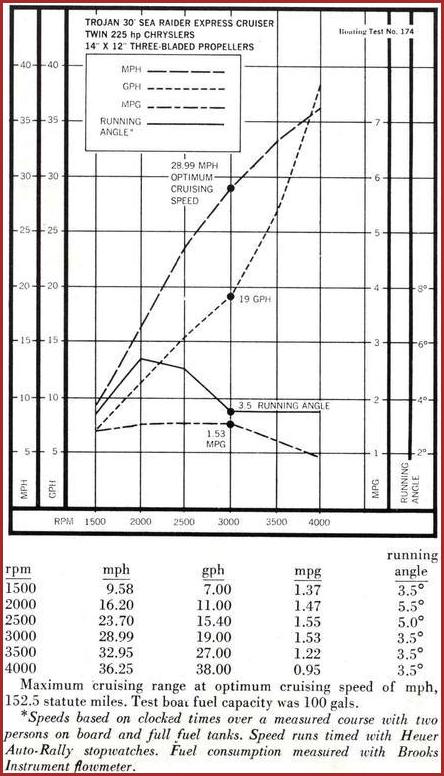 Propulsion
Standard Power:
260 hp Chrysler V-8 gasoline engine with 383 cu in piston displacement; 4.25" bore x 3.38" stroke; direct drive.
Optional Power:
260 hp Crusader V-8 gasoline engine with 350 cu in piston displacement; 4.00" bore x 3.48" stroke; direct drive.
Twin 210 hp Crusader V-8 gasoline engines with 307 cu in piston displacement; 3.87" bore x 3.25" stroke; direct drive.
Twin 225 hp Chrysler V-8 gasoline engines with 318 cu in piston displacement; 3.91" bore x 3.31" stroke; direct drive.
Test boat equipped with twin 225 hp Chrysler