There aren't a lot of boats in this size range that we would consider to be exceptionally well built, but the Bertram-Trojan line of International Meter series certainly meets that criteria. Designed by Fort Lauderdale designer Harry Schoell, the 10.8 meter is one of the most well-built production line hulls around. And to top it off the layout and systems engineering is nearly as good. A near identical twin to the popular Trojan 10 meter, it is nearly three feet longer. In fact, this review will apply equally well to both the 10 and 12 meter models. This is one of the roomiest convertible sedans around. And unlike a lot of other boats, it achieves this without sacrificing basic integrity such as eliminating bulkheads.
Let's start with the fact that when I took my steel surveying hammer to the bottom of this hull, it rang like the hull was steel. Thick and dense. No dull "thunks" on the bottom of this one, and no blisters or floppy hull sides either. Then we counted three full size bulkheads, to which we add a deck that's properly attached to the hull, good sized hull stringers and a deck that's about as solid as walking on a concrete pier and we sum up that this is one well-built boat. Surprisingly, this is not a heavy boat, coming in at around 15,000 lbs. as compared to the Bertram II 35' convertible at 23,000 lbs. Bertram-Trojan has managed to keep the weight where its needed and cut it where it's not.
ABOVE: Looking forward toward galley and large dinette that converts to a large double berth. Notice the amount of light that the skylight lets in. The lamp below it is NOT turned on, despite the appearance. No wide-angle lens used to take these photos so they are not distorted.
ABOVE: The galley down arrangement is separated from the salon by this small bar top that can be utilized as shown here or ignored by placing another chair in front of it. The traffic pattern is convenient from the aft door all the way forward.
The deck must be solid because, if you check out the nearby photos you'll see that there's nothing supporting the aft end. There is enough deflection right in way of the cabin windshield that a bit of movement does cause the windows to leak a bit, but the way the frames were installed thoughtfully includes a small coffer dam that prevents most of that water from getting inside to do any damage (photo above right and at bottom of page). It has top quality anodized window frames that, along with the aft sliding doors, after ten years showed no corrosion and only minor leakage. Also chalk that up to a heavily constructed house and decks.
We liked the fiberglass head liner in the salon as well. No need to worry about stains or tearing it open with fishing rods and whatnot. And considering that the salon air conditioner is on the bridge with the outlet in the overhead, you don't have to worry about condensation stains either. The forward section has an ultra-suede headliner which, lacking any water stains means that there were no leaks, even around the skylights or bow hatch.
The layout of this 35-footer is one of the best we've seen and the interior has the feel of a much bigger boat. That's mainly because of the openness between the salon, galley and dinette area. And here's one designer that achieved that sense of openness with sacrificing bulkheads like we find in most other boats. There aren't many that you can get a sofa, large swivel chair and two barstool type chairs in the salon, but this one handles the furniture without forcing you to fall over it. On the other hand, this is only a single stateroom boat, so it should be spacey. On the 10-meter model, that's not quite the case. It comes with a built-in sofa with storage underneath and, although comfortable the salon is noticeably smaller.
The dinette is lengthwise along the starboard side so it's not quite as convenient, but it makes up into a heck of a large double berth. The galley doesn't have enough counter space, but then what 35-footer does? This one makes good use of the available space without feeling claustrophobic or cramped and has lots of nooks and crannies for storing stuff with adequate space for things like pots and pans for the serious cruiser. One complaint is that the double basin stainless sink must have been obtained in the land of very little people because you can't lay down a dinner plate or wash a pot in it. It's that small. Replacing with a single basin would be a good idea here.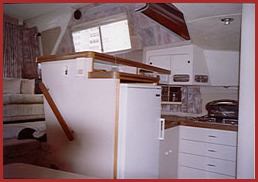 ABOVE: What this galley lacks most is adequate counter space and a usable sink. The small double basin job on this boat is nearly useless. Otherwise, there is adequate storage. 10 years old -- the interior has held up well.
ABOVE: Starboard aft side of salon. With all the fabric upholstered panels and valences, the fiberglass headliner is hardly noticeable. There are lots of nice touches like the fire extinguisher cove at right and handy shelving along the sides.
The head is equally good sized with a stall shower that can be used. The solid Lucite white skylights above the head and dinette are a real nice touch, which makes both areas light and airy. This survey model was a one-owner boat that, being ten years old, we found it hard to believe that the owner said the interior decor was all original. These boats come very nicely decorated standard and the materials used holds up very well indeed. We grant you that this was a very meticulous owner and the average boat probably wouldn't look this good.
This would make a great sport fisherman because the cockpit space is more than adequate, even with the optional tackle center with bait freezer which is behind the bridge ladder, not taking up valuable space. The deck is very solid and uncluttered with good gutters around the hatches. If you like in-hatch bait, fish or storage boxes, this one has them. The cockpit deck is quite low so there's not a lot of storage space below. The center section is completely taken up with the single 300-gallon fuel tank. You can reach the steering gear easily, but that aft bilge pump is nearly out of reach. This one had a bolt-on very wide swim platform but its too bad there's no transom door.
The bridge is about as large as you'll get on this size boat. We like the trade-off of slightly cramped seating in front of the helm console in favor of adequate room for swiveling helm chairs behind it. The helm is in the center and a person can actually get between the chairs and railing without making the operator step out the way like getting into a center seat in a movie theater. The wheel and controls are well-placed, although there's a shortage of space to mount larger instruments. Probably the most out-of-place item on this boat is the chintzy, thin, black plastic instrument panel which on many other boats we've found to be cracked and faded. This one had been kept covered up so it looked okay.
The bridge on the 10-meter, like just about every 33-footer, is cramped. As usual, the designer tries to put too much up there so that the whole layout suffers. There's no space on the helm console and there's no space even to bend over between the helm chairs to reach for anything in the cabinets below. If a boat ever needed an overhead cabinet on a pipe frame top, its this one.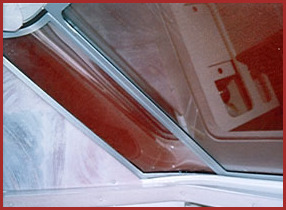 ABOVE: This view shows the treatment of the forward window frames which, especially with the curved section, are prone to leakage. Look closely and you can see that the frame is in front of the small raised coaming so that any leakage drains back out, and not into the interior to cause damage.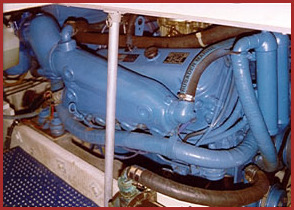 ABOVE: This shot of the engine room is taken from the open center hatch. Its shallow but you won't kill yourself trying to change oil or check on things. Nearly everything is conveniently located for servicing, including the strainers. Generator is to the right in front of engines, easily serviced.
The bridge coaming is very thin glass and on many of these we've found it to be buckled and warped where its screwed down around the base. This can be prevented by drilling oversize holes and using Teflon washers under the screw heads so that expansion and contraction during heating and cooling doesn't cause it to buckle. Also, the access hatch cover on the bench beside the helm is not properly sealed. It leaks, and the water runs down the starboard side house pilaster and may damage the air-conditioning controls, as well as staining the interior fabric.
Unfortunately, the hull shape won't quite give the performance of a Bertram or Blackfin, but its adequate in my view to handle the moderate stuff. With 350 hp Crusader gas engines, the speed is probably not what you'd like it to be as it tops out at around 22 knots with a clean bottom. Another 50 hp would do wonders - to the speed and the fuel bill. With these engines, there's adequate space in the engine room. But with the optional 300 hp Detroit Diesels, its badly cramped and the boat becomes grossly under powered to boot. That's the one big-time drawback with this boat -- you got all that wonderful interior space at the expense of engine room space. And as near as I can tell, Cat 3208's will not fit in this one.
Considering the 8,000 lb. difference in weight with the Bertram 35, we're wondering where the loss of speed came from because the B-35 will do about the same with those engines. We'd have thought that she'd get up to at least 25 kn. at 4000 RPM on engine rated at 4000 to 4400 RPM and wondering about the 1.88:1 Borg-Warner gear boxes. Seems a lot of reduction for a 15,000 lb. boat. Would it do better with 1.55:1?
With the gas engines and 7.5 kw Onan generator, this engine room is intelligently laid out, and if you take the hatches up (they weigh a ton and you gotta move the sofa out to do that) there isn't anything down there that can't be easily reached. A very nice touch for DIY people. Hardware and systems are all good quality and have held up well with good maintenance. The electrical system is well engineered. The engine room ventilation is not as good as it should be and was pulling a bit of a vacuum; when we opened the hatch we got another 50 RPM.
The engine room on the 10 meter is just plain cramped. To do any kind of maintenance you need to clear all the furniture out an pull the hatches, a job for two people. Once that's done you can reach most everything, sometimes with a bit more effort than you'd like.
Another draw back is that the gel coat is not top quality and this boat needed painting. The house sides and bridge coaming were blotchy and discolored, possibly due to prior damage repairs, or from original molding defect repairs. Hard to say which. With a urethane paint job this boat would really shine and look as good as new. No cheap, tacky hardware on this one, except for the crummy feature stripe tape. They also had a molded plastic bezel under that nice stainless grill over the engine room vents that goes the way of the instrument panel. On this boat they had been replaced with fiberglass upgrades and looked fine.
Overall, we would rate this as a truly great boat, especially for family cruising or just partying. Another aspect of great design is that one can move around freely without falling over and banging into things. This one won't wear you out by the end of the day. After ten years of heavy use (2000 hours) in Florida, except for the oxidized gel coat this boat still looks great.
Note: The Trojan 10,11 and 12 meter models are all of equally good quality and are available in both the convertible and express models. If you want better diesel performance, you'll need to move up to the 11 or 12 meter model where Cat 375's or Detroit Diesel 450's are available. The bigger diesels also fit in the express models because of a higher deck. If you're a speed freak, you'll like the express with 450's; its a screamer.