There are a lot of boats where the quality of engineering has unfortunately fallen far beneath the reputation of the name. That's why a boat which truly earns its status through outstanding quality and performance is a rare commodity. The International 9 Meter is such a rare commodity.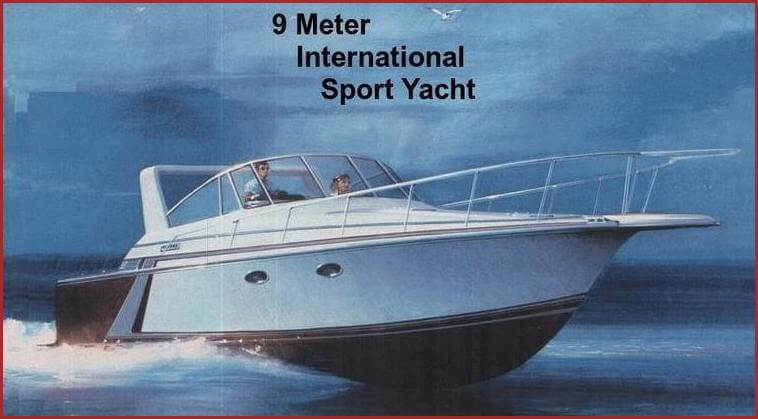 With the 9 Meter Sport Express, engineering is a highly visible asset. Meticulously crafted accommodations and appointments, remarkably agile handling, plus superior structural integrity are all honest testimony to 35 years of boat-building experience combined with an compromised dedication to industry leadership through bold innovation.
When Boating magazine tested the new 9 Meter Sport Express in "three to four foot seas," they commented, "This beamy express cruiser wasn't about to be shoved around. There was no pounding, no slam-barn, no rattle of structural components below-decks. Just a good, solid, comfortable ride." (We expected as much because our own sea trials in the Gulf stream, with 15-18 foot seas, delivered the same solid ride.)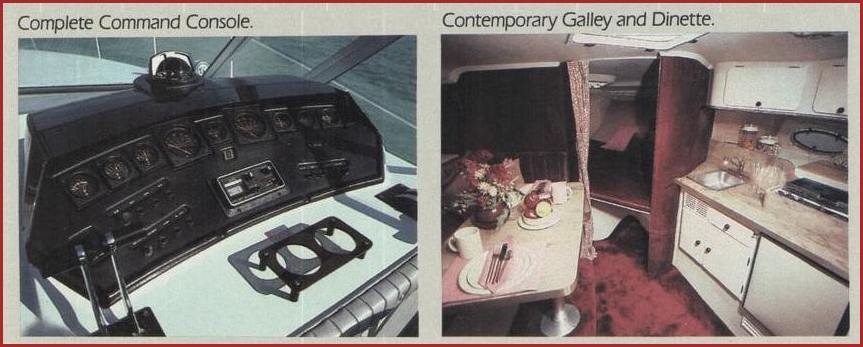 The major reason for this exceptional performance is the unique bottom of every International Sport Yacht the patented "DeltaConic" hull. Another critical factor is the structural integrity of the 9 Meter Sport Yacht.
The construction concept begins with a single, one-piece inner liner that has interior elements molded in. These include the complete interior of the forward cabin, engine beds and stringers, water tanks, plus the AquaSonic muffler system which dispels exhaust gases into the slipstream alongside the Sport Yacht. This system reduces the probability of engine emissions venting back into the cockpit.
With these pre-engineered features, the inner liner is precisely fitted into the hull while it's still in the mold. Next, the hull and liner are vacuum bonded together, creating an extremely strong structure with superior hull stiffness. The deck is pre-assembled with headliner, windshield, rails, lights,horns, and hardware, then mated to the hull. This unitized construction is extremely sound. The design actually allows each component to reinforce each other, providing more strength with less weight.
Among the 9 Meter's more subtle but valuable advantages are features for easier maintenance. Wiring, for instance, is numbered and color coded for instant recognition. And mechanical systems are positioned in the liner for easy access. At the helm, you enjoy every convenience of a uniquely human engineered control console that can be read at a glance. It features a non-glare panel for bright sunlight and illumination for night operation.
The expansive 136 square foot cockpit comes with stylish furnishings arranged for entertainment and safety. With a 12 foot beam, this Sport Yacht feels like the largest 30 footer ever built. So there's plenty of room for you and your guests to lounge around or fish comfortably. And a bar with ice-maker is just the beginning of the list of luxury appointments you can select.
The choice of options ranges from bow pulpit to a full canvas enclosure and our Mediterranean Arch. When you add the Mediterranean Arch to your Sport Express, you suddenly enter the elegant future of boating. It not only creates a sleek, rakish look, but it provides an excellent location for cockpit lighting and electronic gear. The standard transom platform offers even more enjoyment. It's a stylish molded platform that provides easy access to the water for swimming, skiing or diving.
Of course, the final touch with every Sport Yacht is the color coordinated interior and graphics package. Create your own mood of elegance in the interior. Make a striking impression on every passerby with the distinctive exterior graphics. This is one of the keys to the personalized feel each owner enjoys with an International.
The 9 Meter International wasn't created for everyone. It was created for a select group of individuals who demand that uncommon combination of status, quality, performance and value in their boating investment... the hallmark of every 9, 10, 11, 13, and 15 Meter International Sport Yacht.