Here's another boat we happen to like. Solid construction and good design are the reasons why. Designed by Harry Shoell and bearing the name Bertram-Trojan, Inc., this particular hull comes in two styles, the convertible and the express. And one of its more outstanding features is the ultra wide beam (16-3) combined with a moderately deep-vee, it is a better sea performer than its smaller International series cousins. At 35,000 lbs, her weight in our view is just about right, neither too light nor too heavy.
Fitted with a pair of 750 HP Detroit Diesel 8V92TI's, she's a speed demon. Unfortunately, our example model was rather poorly maintained and an engine problem prevented us from completing a sea trial, so we didn't get to find out how fast she really goes. Figure a good 24 knot or better cruise. At that power rating, we'd also be inclined to detune the engines a bit, going to smaller injectors to extend engine life and get a little better fuel economy.
Unlike the smaller International models, this hull is completely balsa cored. We found very good access to the internal hull that revealed excellent construction detail, including all that is necessary to create a reliable balsa core that won't become water saturated (so long as you don't go making any holes in it). The stringers in this boat are Harry Schoell's unique fiberglass I beams and are massive, so this hull is quite stiff. After 11 years of an obviously very hard life, no faults were found other than a blistered bottom, which is odd considering that most of these boats don't blister. Why this one did, we'll never know.
For most people, the word "convertible" is immediately associated with "sport fisherman." In Florida, at least, this is not the case, for this style yacht is very well suited to tropical cruising as well as fishing. Some of its virtues are the very large and open cockpit that is low to the water, much desired for water sports for the ability to walk straight from the cockpit onto a swim platform through a transom door. Another is the high bridge that affords good visibility for navigating in clear, shallow, but reef-strewn tropical waters where the ability to navigate your way around reefs by sight is critical. Another is a generally easier bridge access over a motor yacht. And finally, the lack of an excessive amount of window glass is necessary to cool the interior in climates where the temperature remains warm.
The down side is that for cruising, this 44 footer is comfortable for two couples, but not three. Then, again, 6 on any 44 footer can be a bit much for days on end. But you can load her up with 10 or so for a cocktail cruise with ease. The very large bridge will hold 6 with comfort, more with a little elbow rubbing; 10 on any boat bridge this size is a crowd. Between bridge, cockpit and salon, she'll easily hold 15.
Two double staterooms are adequately sized, each with an equally good size head and shower with partial fiberglass liners. The layout is sensible, permitting ease of movement without clashing doors or silly bottlenecks. The designer obviously knew what he was doing. The large U-shaped galley is one of the more outstanding features. It has plenty of counter space, as well as storage cabinets, featuring a large double basin stainless sink and an under-counter Subzero reefer/freezer combination with 24 cubic feet of interior space. Although the galley is down, it is only separated from the salon by a counter divider which makes both galley and salon feel considerably bigger than they really are, not that either are actually small. Both are more than adequate.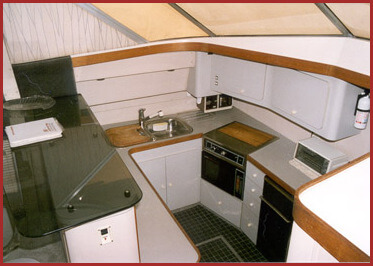 The salon has a forward L-shaped settee as most late model Bertrams and other convertibles do, with a fixed hi-lo table. The layout of this is great since the table does not take up the whole area of the settee so that 3 people can sit here with ease for just relaxing without feeling like you're in a movie theater. Very sensible. In addition to which there is room for two swivel chairs and the two little bar stools at the port side counter. We really don't find many boats this size where six people can come in and find a place to readily sit down and have a conversation, but this is one of the few.
We also liked the layout of the master stateroom that has a large, irregular shaped, almost queen sized berth with large side tables, as well as a bit of floor space. The hanging lockers are a bit small, but at least there are two of them. Each head has a private stateroom entrance, and both heads are more than adequately sized. Very nice indeed.
The engine room is a bit cramped, but at least there is a decent center isle and most important stuff can be reached, with the exception of the engine fronts which are almost hard against the forward bulkhead. All-in-all, there are few serious complaints here. One super big complaint is that the salon air conditioner is installed under the bridge seating which is fiberglass and has only two 6" plastic ports for access. To service these things, you'll have to cut the seating out to get to them!!! Bad, really bad.
The cockpit has those huge, deep in hatch storage boxes that require two people to remove them. There are aluminum fuel tanks under the deck which is designed to be removable. The tanks appear to be installed properly, so no problem there.
This model was fitted with the optional pipe frame hardtop with overhead electronics cabinet. Overall, the bridge is very well laid out and the ergonomics are great. No cramping or bottlenecks at all. Typical of all high quality boats, you find things like the bridge windscreen attached to a stainless tubular hand railing, both to make it good and solid, and also to make sure that people have something to hold onto other than a piece of Plexiglas. It's the little things like this that add up to make for a nice boat. Eliminate the unimportant stuff and make sure what is needed is there. PTL.
Some costs were saved in the form of plastic plumbing -- probably that cheap stuff over which there was a huge class-action lawsuit -- that breaks frequently and needs to be replaced, as well as a few other odds and ends. The water and other pumps are decidedly el cheapo units that need upgrading, as are a few other items below decks. The old SeaLand vacuum head system is junk and should have been replaced long ago. Altogether she needs about $5 G's in systems upgrades to bring her up to the standards of the rest of the vessel. (Always something to bitch about.)
So how is she holding up after 11 years? Actually very well. This particular boat was not well cared for, but it still looks good despite the neglect. However, the gel coat is not great stuff and it does need a paint job. Unlike many late model boats where the molded parts are designed for cheap, easy assembly, and have ugly caulking joints all over the place (that turn dirty and dark), you won't find one of them here.
It's almost completely devoid of those crappy, low quality parts and fittings that we find so often nowadays that deteriorate rapidly and turn your big investment into a costly eyesore in a few years. You know the old saw about having one good shirt than 5 cheap ones? Well, this is a prime example of that philosophy. In fact, if you remove all of the add-ons, this is a pretty plain boat.
Out of the box, this was not a high priced boat, with the MSRP at only $475,000, although a lot of things that would be standard on a Bertram were optional. With a current asking of $300,000 after 11 years, this boat proves once again that good, solid design and sensible materials selection is the key to value. Of course, this is what you'd expect from a boat with the name Bertram attached to it. And that's what you get.